About Us
Asteria Studio is a home & lifestyle brand dedicated to the pursuit of a well-designed life.
We create and curate home decor, paper goods and gifts with a nostalgic flair.
What is a well-designed life?
To me, a well-designed life is really whatever you want to make it – as long as it's beautiful to you. No settling for good enough, or for whatever's right at hand. I'm about choosing things with intentionality and care that make you feel at home, from your wardrobe to your decor.
the Founder
Lizzie Campbell
I'm a self-taught artist, designer, and serial-card-aisle-loiterer. What started as a blog on the floor of my college dorm room turned into a creative studio and shop dedicated to the pursuit of a well-designed life.
Everything you see here started as an original piece dreamed up in my sunny studio in Chicago. Sometimes with paint, sometimes with pixel, but always made with a lot of heart and a little magic.
My pieces seek to evoke the magic in simple moments and small joys – the first sip of coffee at your favorite cafe, a rainy afternoon with a good book, curling up by the fire on the first chilly day of autumn. I'm endlessly inspired by vintage motifs, bright colors, and simple joys.
When I'm not behind the computer or in the studio, I can be found snuggling my dog, scouring local vintage shops for my newest treasure, or binge watching 90s sci-fi shows.
2013
The Beginning
As a freshman in college, I was craving a creative outlet. I decided to start a blog where I could write about fashion, lifestyle, decor and whatever else popped into my head.
2014
Social Media Manager
Using the skills I learned through my blog, I started offering virtual assistant and social media management services to help pay my way through college. I quickly landed my first few clients who ended up being integral to my early success.
2015
Vintage Flannel Shirts
In 2015, I decided to start an Etsy shop where I sold vintage decor, clothing and accessories. That fall, I created a listing for a "Mystery Vintage Flannel Shirt" and several hundred orders and $1500 later, an entrepreneurial spark was lit.
2018
Full Time Design Studio
After moving to Chicago at the beginning of the year for what I thought was my dream job, I found myself in October 2018, burnt out, exhausted, and jobless (by choice). I decided to pursue my brand and web design business full time and to my surprise, it worked out pretty well.
2019
Brave Girl Club
In late 2018, I learned about the concept of Print on Demand, and started a shop creating cute graphic tees, mugs, and more. In a lot of ways, this was an early prototype for Asteria now, and I learned a ton. I was even featured on Buzzfeed, and spent a couple Christmases frantically cranking out custom sweatshirt orders.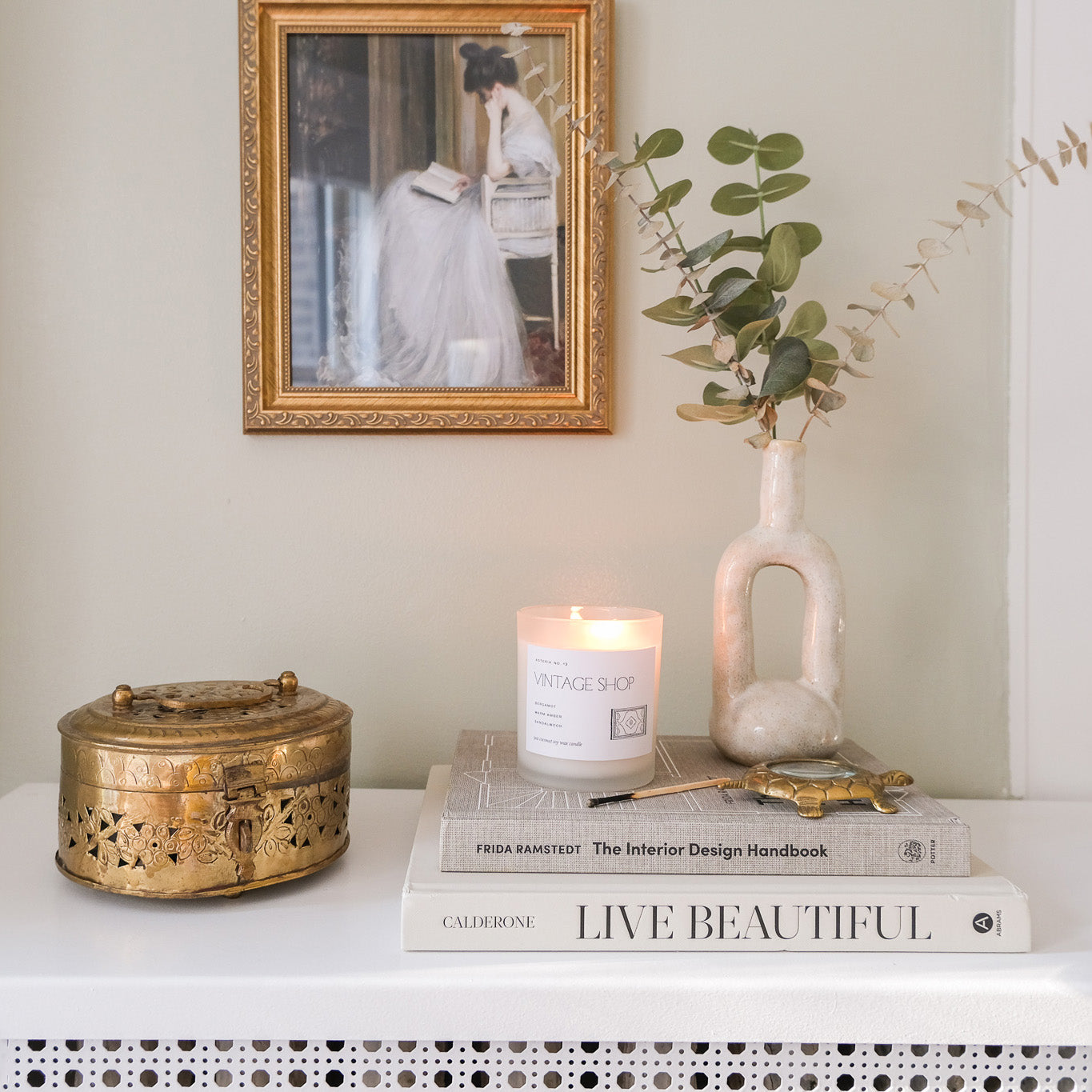 2022
Asteria Studio
By 2022, I had been working for myself full time for nearly four years. I was tired of chasing invoices and getting ghosted by clients, and I wanted to simply design things that I loved. Thus, the current iteration of Asteria was born – a home and lifestyle brand for nostalgic souls. It feels like the culmination of everything I've done so far, from that first blog to my vintage Etsy shop and my design biz.